Main Line Times Column: Places We Love – Winter a-salt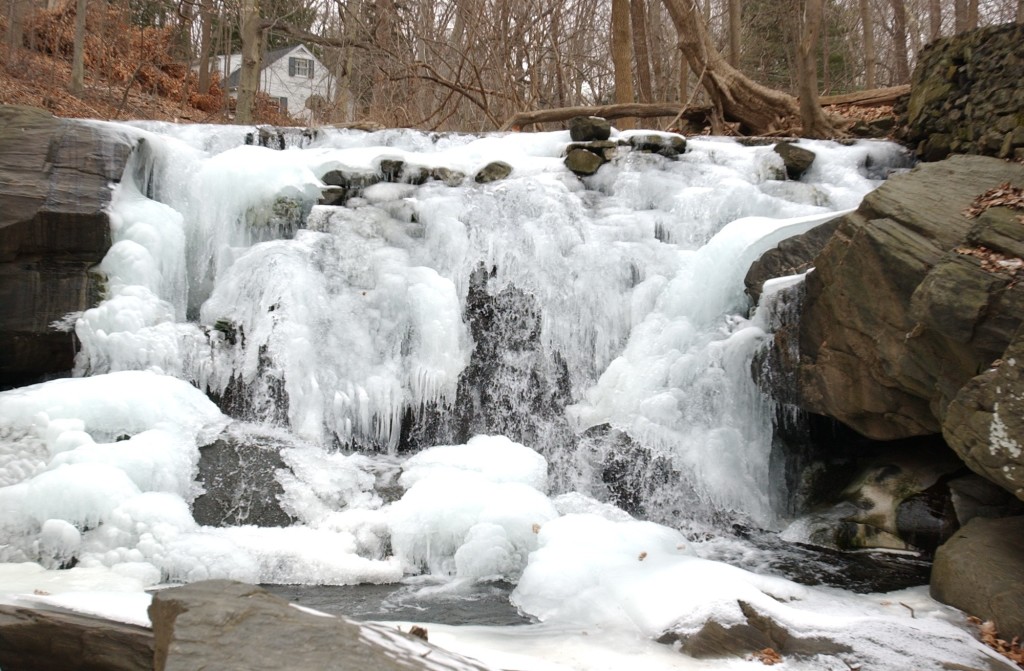 This is the time of year when it has been months since dipping our toes in a stream and the importance of clean water is on a back burner in our minds.  However, this is an absolutely critical time of year to be thinking about water quality.  At the Lower Merion Conservancy, we are thinking about clean water all the time.  This week's Place We Love is the stream in your backyard and how it can benefit from your attention this time of year.
Over the last year and a half, the Conservancy has been part of a clean water initiative that stretches from southern New York State to New Jersey to Pennsylvania.  It has one clear goal, move the needle on water quality in the next three years in the Delaware River Basin.  The William Penn Foundation created and funded a significant project called the Delaware River Basin Initiative.  A simple reason for this kind of investment is that 15 million people depend on it as their primary source of drinking water.  It is a major investment in improving water quality that includes an unprecedented level of collaboration, research and capital improvements.  The list of partners is long, and the projects are incredible.
The Conservancy is proudly in charge of moving the needle on water quality in one watershed in suburban Philadelphia, Cobbs Creek.  Our work includes four streams: the East and West Branches of Indian Creek, Naylor's Run and the main stem of the Cobbs.  Our primary focus at this stage is the East Branch of Indian Creek.  It begins on Montgomery Avenue near Evida, passes through Narbrook Park, under the ball fields in Narberth, through Shortridge Memorial Park and down past Lankenau hospital to enter Philadelphia at Morris Park.  To cover such a large watershed we've engaged our colleagues at Saint Joseph's University, Villanova University, Friends Central School, Darby Creek Valley Association and the Eastern Delaware County Stormwater Collaborative.
In suburban Philadelphia, the major threat to the quality of our water is stormwater—both its quantity and its quality.  In PA, municipalities are responsible for managing stormwater at the local level.  As a result, our approach to improving water quality is to work with our local municipalities to talk about these issues.  We also work to talk to residents about what they can do on their own properties.
Beyond the conversations about stormwater, the Conservancy has secured a major grant from the National Fish and Wildlife Foundation to work with our partners in Narberth on three capital improvement projects that will better manage stormwater in the Borough.  The Borough's match is a great sign of their commitment to improving stormwater in the community.  This work is a perfect compliment to the work Lower Merion Township just completed this past fall in Shortridge Memorial Park to stabilize the stream banks.
Combining these capital improvement projects with support from each person in the watershed in their own backyard will improve water quality in the East Branch of Indian Creek and beyond.
So, what can you do?  The truth is whether you live near a stream or not, you live in a watershed.  You have more of an opportunity to help local streams than you knew.  This time of year, you can plan for spring/summer improvements such as installing a rain barrel, building a rain garden, or considering your landscaping needs.  It is a good time of year to research companies that offer lawn care practices that protects streams from harmful chemicals and excess nutrients.  If we do get a rainy day, take a walk and look at how water moves across your property.  This will also be very informative.
In the throws of winter, it is also important to go easy on the salt.  Scientists are finding that road salt stays in our soils for many months after winter leaching slowly into local waterways.  In fact, scientists have measured that the Schuylkill River is becoming incrementally saltier over time.  A fun occasional alternative to salting—use black oil sunflower seeds on your walkways.  The birds will appreciate it and the hulls will heat up with some sunshine melting snow and giving traction.
As you begin to think spring, think about the local streams you love and what you can do in your own backyard.  Your help is an essential part of moving the needle on water quality in the next three years.
Patty Thompson is the Executive Director of the Lower Merion Conservancy.  She can be reached at patty@lmconservancy.org.