Main Line Times Column, Places We Love – Sandy Drayer Environmental Scholarship and Internship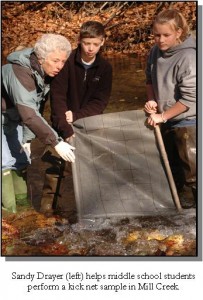 More times than not a place we love is stewarded by a person we love.  The Lower Merion Conservancy honors one of these persons each year through an environmental scholarship and internship program.  She is one of the former Director's of the Lower Merion and Narberth Watershed Association (one of the Conservancy's predecessor organizations), has served on numerous commissions and committees, and is passionate about the natural and historic fabric of our community.  She is, of course, the incomparable Sandy Drayer.
For those of you that have met Sandy Drayer, you know what a lasting impression she leaves on people. For those of you that haven't had the pleasure of meeting her, her lifelong dedication and passion for the conservation of Lower Merion's rich history and natural environment shines through the Conservancy's continued commitment to these efforts. As one of the founding Board Members of the Lower Merion Conservancy, her work continues to serve as the basis for our ongoing initiatives. In 2004, Sandy retired from the Board after 20 years of service. Upon her retirement, the Conservancy created the Sandy Drayer Environmental Scholarship in honor of Sandy Drayer, the "First Lady" of our local streams.
For the first eight years of the Scholarship Program we awarded a $1,000 scholarship to a graduating senior based upon a competitive essay-writing application.  Past winners have been outstanding students who have stayed in touch with the Conservancy and Sandy, and have gone on to be shining stars in their professions.
Last year we talked with Sandy about how we can take the program to the next level, especially since the awardees of the scholarship are such wonderful students and we, frankly, want to spend more time with them.  We benefit from their energy and passion, and they benefit from the mentorship of excited professionals—much like we've benefitted from Sandy's wonderful presence at the Conservancy.  We also thought about carefully about how hands-on experiences inside AND outside of Lower Merion with relevant educational opportunities could help us in our pursuit of inspiring others to help save the places we love.
In that spirit, the Conservancy created a paid summer internship to give students the opportunity to work closely with us to help us care for our native wildflower gardens.  Last year two outstanding students split the internship and they faithfully plucked weeds, counted butterflies, planted new plants and helped with our public programs.  For the scholarship side of the program, the Sandy Drayer Program sponsored a student's tuition at Cornell's Lab of Ornithology summer scholar program for young birders.  The recipient is a local high school student, one of the Conservancy's BirdWatch monitors, and is outstanding student leader in environmental issues.
This year, the Conservancy is delighted to roll out the Sandy Drayer Environmental Scholarship and Internship once again.  This year's selected intern, a high-school student entering their senior year in the fall of 2014, will once again have the opportunity to conduct hands on conservation in our native gardens—helping pollinators, observing our native plants through the growing season, working closely with our staff in a mentor capacity and so much more.
For the Scholarship, we are also excited to announce a new partnership and opportunity for something that is near and dear to Sandy's heart.  As a life-long water lover, Sandy enthusiastically supported our sponsorship of a high school student from our region's participation in an amazing educational opportunity, Schuylkill Acts & Impacts; an Expedition to Inspire Watershed Action put on by the Schuylkill Headwater Association.
Schuylkill Acts and Impacts is a week-long service-learning program (Saturday June 7 to Saturday June 14, 2014) designed to educate and connect ten high school students living in the Schuylkill watershed to the Schuylkill River. With the help of Outward Bound team leaders, these students will travel by bus and kayak along the Schuylkill River from its headwaters in the coal mining lands of Schuylkill County to its confluence with the Delaware River in Philadelphia.
This program will introduce students to the main issues impacting water quality along the river. Through guided tours, stimulating programs, and applied service work, students will learn how our behavior ultimately affects the water we use and drink every day. Their days will be spent along the waters of the Schuylkill River and their nights will be spent sleeping along its banks under the stars. The Conservancy along with Sandy Drayer, will have the opportunity to meet and talk to the students when they port their kayaks and visit us at Flat Rock Dam during the trip.
Behind the places we love are many people we love.  We are thankful for people like Sandy Drayer who continue to inspire us to keep saving the places we love.  The Conservancy encourages you to think about people you know like Sandy and what actions you might take to share their stories and continue their work.
To apply or learn more about the Sandy Drayer Environmental Scholarship and Internship please click here.
Patty Thompson is the Executive Director of the Lower Merion Conservancy and can be reached at patty@lmconservancy.org.