306 Bala Avenue, Bala Cynwyd
Constructed in 1896
    **UPDATE**
At its recent meeting, the Building and Planning Committee of the Lower Merion Board of Commissioners recommended a preliminary development plan that encourages the preservation of 306 Bala Avenue, a house designed by the prominent Philadelphia architect, Horace Trumbauer.  The plan proposes the retention of the historic 1896 house within a development of seven new residences.  It also proposes a site design that permits an unobstructed view of the impressive house from Bala Avenue.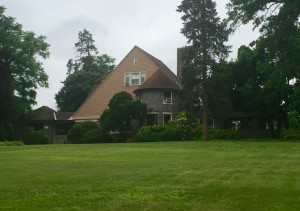 The eight-bedroom house at 306 Bala Avenue owes its design and plan to Horace Trumbauer and is one of only a few remaining Trumbauer commissions in Lower Merion.  Trumbauer was the architect of many monumental buildings, including the Philadelphia Museum of Art, the Free Library of Philadelphia, the campus of Duke University, and the Widener Library at Harvard University.  Trumbauer's 1896 residential commission in Bala, however, shares little in common with his sober institutional designs.  Rather, it is representative of the architect's early work and is similar to commissions he executed for clients in suburban developments, including Overbrook Farms, a Philadelphia National Register historic district that borders Lower Merion.  Like many of the architect's first designs, 306 Bala Avenue reflects Trumbauer's interpretation of the Shingle Style.  This interpretation is conspicuously represented in the house's prominent front gable and conical tower.
306 Bala Avenue is sited on an approximately three-acre property that is planned for subdivision.  The subdivision plan, which was executed by a local developer and approved for tentative sketch by the Lower Merion Board of Commissioners, proposes the construction of seven houses on the property and the retention of the Trumbauer house on a one-acre parcel in the center of the new development.  The plan to maintain the house is encouraging; the house has no preservation protections and the developer reserves the legal right to demolish it.  The house, nevertheless, remains vulnerable; during the 1950s, when it was converted to institutional use and incorporated into a campus-like complex of buildings, the house lost much of its historic context.  Although the sketch plan proposes the demolition of existing ancillary buildings on the property (most of which are not historic), it does not restore the historic setting of the house.  Instead, it isolates the house in the center of the new development.  This arrangement is not ideal for the long-term preservation of the 1896 residence.  Rather, a sensitive development plan is necessary to ensure the marketability of the house and, thereafter, its preservation.  A façade easement on the house, which could be accompanied by tax benefits, would further ensure the long-term viability of this Trumbauer treasure.