Main Line Times Column, Places We Love – Our Own Watershed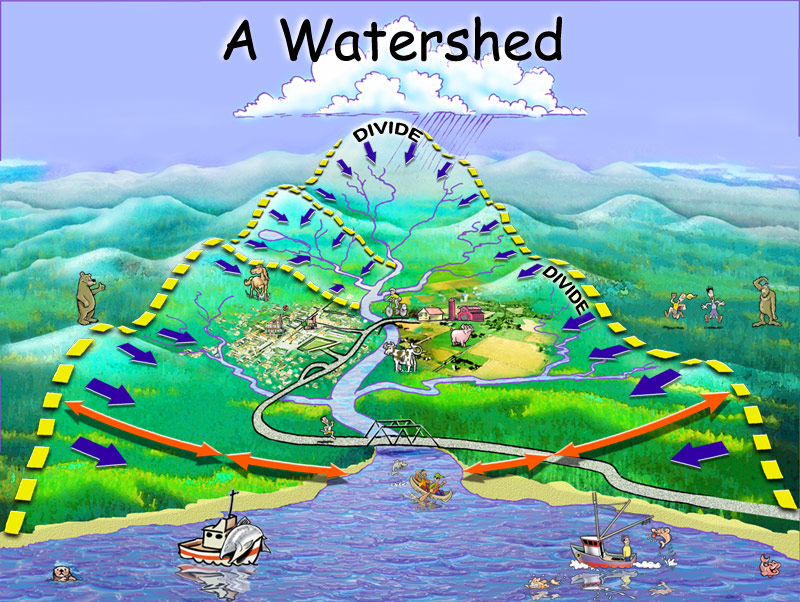 Well, it's finally here: Spring.  Despite the slow start, before we know it we'll be trading our mukluks for wellies as we wage a new battle, preparing to face the rain, rather than the snow.  Specifically, many of us will be thinking about stormwater and how it impacts our properties.  As you consider how to handle the 'April Showers' in your own backyard, I challenge you to think beyond your surveyor's pins and think about your upstream and downstream neighbors.  This week's place we love is your watershed.
A watershed can be defined nine ways to Sunday.  I like to think of it as simply all of the land that drains into a specific body of water.  The Mill Creek watershed, for example, is largely contained in Lower Merion Township.  It starts in the parking lot of the Villanova Law School (and with a branch in Ardmore's Suburban Square) and flows through Villanova, Bryn Mawr, Penn Valley, and Gladwyne, where it empties into the Schuylkill River at Flat Rock Park.  No matter where you live in the Mill Creek watershed, your activities can impact water and habitat quality in Mill Creek.  Mill Creek is part of the Schuylkill River watershed which is part of the Delaware River watershed.  We all depend on the Schuylkill River for drinking water, adding to our collective responsibility to be good stewards for our watershed.
When I talk with people about local environmental issues, stormwater is something that we all agree is a big problem.  The problem stems from the simple fact that we have created lots of impervious surfaces (our homes, driveways, parking lots, roads etc.) and water runs quicker than ever before into our local waterways.  As the water moves, it takes everything with it, such as road salt, pet waste, fertilizers, herbicides, and more and pours into our streams untreated.
We can work together on stormwater issues in a number of ways.  First, local governments and state agencies can play a big role in helping to manage stormwater runoff.  Second, communities can invest in infrastructure that solves the stormwater issue.  Thirdly, individual property owners can take action to improve the problem, especially older properties with no modern stormwater management.
One of the easiest ways for local governments to address stormwater issues is to ensure that their zoning codes and regulations hold new and re-developed properties to the highest standards of stormwater management.  Improving out-of-date zoning, especially in areas where there are a lot of impervious surfaces, can have a big impact.  It is not always feasible to complete a wholesale review quickly, but it should be included as a priority in a community planning document, such as a comprehensive plan.
Local governments can also improve stormwater issues by ensuring an adequate budget exists for infrastructure improvements, particularly green infrastructure.  When dealing with a flooding issue, instead of simply 'making the pipe bigger' to get stormwater into a stream faster, we must consider green alternatives.  If there is an opportunity to direct water into a vegetated swale on public property to hold water longer before it enters a stream, the benefits can be huge.  It filters pollutants out of the stormwater and puts some of the water it back into the ground instead of the stream.  Stormwater infrastructure is expensive and committing to spending the money to get it right is essential.  Radnor Township recently implemented a stormwater authority (an annual fee for each property owner) to supplement their budget and pay for much needed stormwater infrastructure improvements.
Lastly, and most significantly, property owners can play the biggest role in alleviating stormwater issues.  The next time it rains (once the snow stops!), go out and watch water flowing on your property.  You might be surprised to see where it goes.  Think about ways you can hold water longer using creative landscaping or redirecting downspouts towards lawns rather than driveways.  While lawns are only marginally better than asphalt, every little bit still helps.  The simplest way to improve your property's stormwater retention is to simply convert lawns to meadows and plant more trees.  For an ideal example, check out Margot Taylor's project to convert her whole property into a sustainable stormwater management system.  http://www.sustainablesites.org/caseimages/show.php?id=43
On March 13, the Lower Merion Conservancy partnered with Saint Joseph's University and the William Penn Foundation to put on our fourth Stormwater Workshop.  It was a powerful moment where homeowners, local professors, students, landscape architects, arborists, horticulturalists, watershed groups, and so many more came together to talk about stormwater solutions.  We focused on Stormwater in the 21st Century – the value of partnerships, how to connect people to water issues in new ways, and what are we learning in our communities about how to manage stormwater effectively and creatively.
One of the key takeaways for me was that the only way we can solve stormwater problems in our community is to work together.  When it rains, water moves over municipal boundaries, under fences, and across property lines.  Everyone can, and should, do something to help a neighbor who is downstream. Those at the bottom of a watershed know all too well the value of help from an upstream neighbor.  Next time it rains, think about your watershed and what you can do to make a difference.
To find your watershed, visit http://cfpub.epa.gov/surf/locate/index.cfm
Patty Thompson is the Executive Director of the Lower Merion Conservancy and can be reached at patty@lmconservancy.org