Main Line Times Column, Places We Love – Philadelphia Sports Club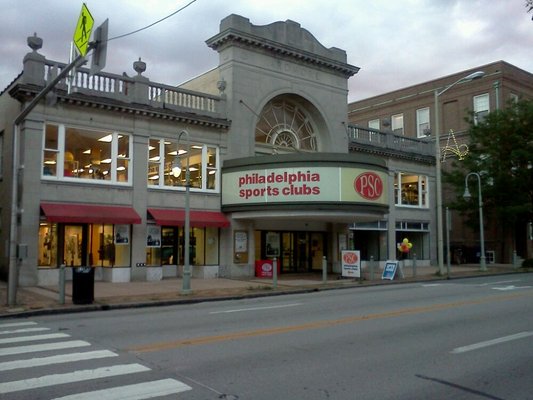 Change is once again at Ardmore's front door with the recent announcement that Philadelphia Sports Club will be ending its lease of the former theater in Ardmore.  An important part of the historic commercial district, this special space affords a great opportunity for the community but also a number of obvious challenges.
The building now know as the Philadelphia Sports Club used to be the Ardmore Theater.  It was built in 1926 and was designed by Clarence Woolmington.  This theatre originally served as a vaudeville and silent film venue and began showing "talkies" in 1941. It operated as a movie theater until 2000. The Beaux-Arts style theatre underwent major renovation and opened as the Philadelphia Sports Club in 2002.  Just as the Ardmore theatre was closing and headed for reuse, Bryn Mawr's theatre became the Bryn Mawr Film Institute and was headed for restoration … ultimately a fabulous success story in Bryn Mawr.
Theatres as a type of architecture have attracted lots of attention as of late in many communities. These types of buildings are often located centrally in a shopping area and they serve as anchors physically and visually.  They inspire wonderful memories at just the site of their often iconic and unique styles.
Originally designed for a very special use, it can be a challenge to reuse a space let alone retain that special function of bringing people together.  Philadelphia once boasted more than 400 theatres.  Now 135 remain.  Some have been lost and others reused, most for religious services.  Theatres are distinctive resources, purposefully built to afford a sense of community or sense of gathering space.  While the use changed in the Ardmore theatre as it transitioned to a sports club, the bringing of people together remained.  As the future of this space is determined a hope would be to retain at least this benefit.
The space in Ardmore available for lease is 20,000 square feet, an incredible opportunity for the right tenant.  Additionally, a number of other changes in Ardmore are brewing between the Cricket Avenue Lot and the train station.  Can we achieve something special in Ardmore that enhances its character, encourages walkability and improves our quality of life?
Even though the Ardmore theatre has already been converted to a new use, it serves as an important reminder of the value of the theaters we still have in our communities along the Main Line.  Owners of historic theatres know how hard it is to care for them and preserve their current use between the expenses and the competition with modern theatres.  This is an important reminder to patronize and support our local historic theatres so they can continue to fulfill a number of services that we take for granted.  Their presence in the community forms a firm foundation for social and economic well-being.
On one of these hot summer nights, take a walk downtown and drop in on your local theatre for some entertainment and know you've made a difference in the health of your community.
Patty Thompson is the Executive Director of the Lower Merion Conservancy and can be reached at patty@lmconservancy.org.  Thanks to JulieAnn Murphy, Historic Preservation Coordinator for the Lower Merion Conservancy, for her contribution to this week's edition.