Main Line Times Column, Place We Love- First Baptist Church in Ardmore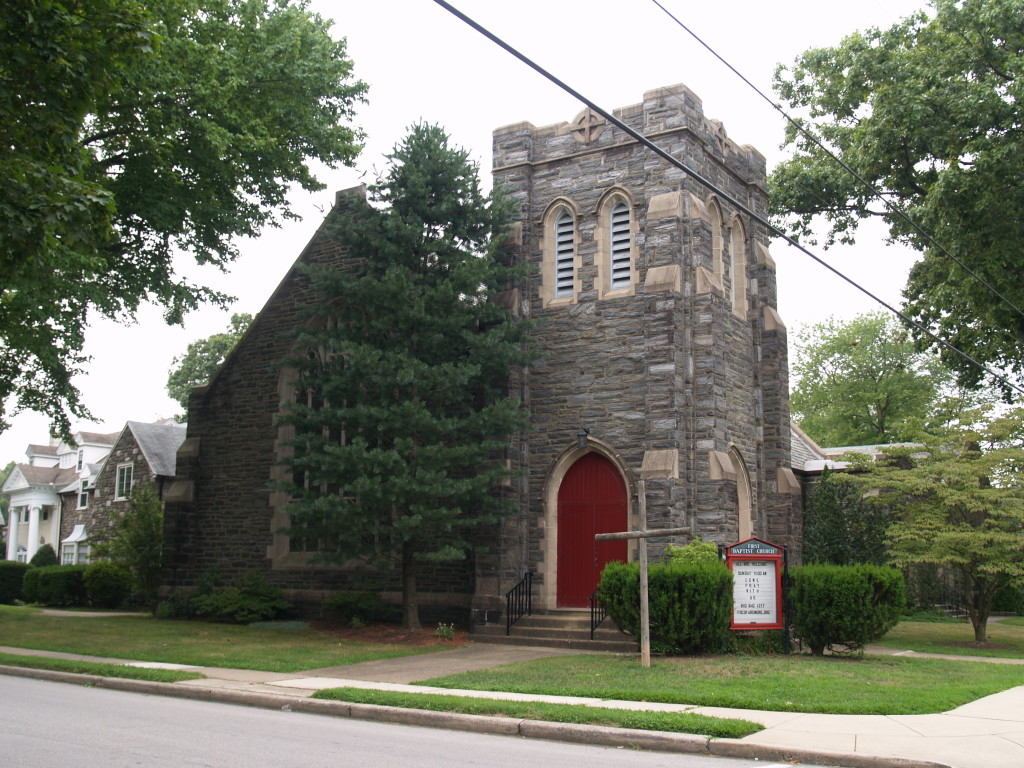 Sacred places top the list in many communities as threatened properties.  Many congregations are witnessing their membership decline while the costs of maintaining property and providing services to their members is on the rise.  In many cases the properties are sold and demolished, however a number of exciting projects are happening on the Main Line.  This week's place we love is one story that fits neatly in the 'preservation victory' category, that property is First Baptist Church of Ardmore.
Traditionally serving their close neighbors, places of worship are commonly found in the center of communities. These special places were designed to create a holy space worthy of practicing age-old rituals honoring a higher power.  As a result, special investments were made in sacred places to accommodate the original use as well as making them exceptionally beautiful.  They are an integral part of neighborhood character.
As times change and congregations find it challenging to continue in these historic spaces, creative solutions are much needed.  Some look for ways to expand the use of their space by partnering with other groups that can fill the social needs of communities, such as yoga classes, art exhibits and theatre productions.  However, when a congregation gets to a point when they can no longer meet their budgets, they often find themselves having to sell their most significant asset, their building.
That is exactly what happened for Ardmore's First Baptist Church.  Built in 1923 by architect Benjamin Rush Stevens, it was the first building on the new Southwest block of Athens Avenue. Built to accommodate the flourishing suburb of Ardmore, it served as an important community meeting place for many years.
In 2011, First Baptist's congregation made the difficult decision to put the church and property up for sale due to declining membership and increased operation costs. A developer purchased it in 2012, whose initial plans for conversion to a condominium complex were denied by the Township.  After a short search for a tenant the developer applied for a demolition permit.
Hoping for a preservation solution, the Conservancy listed the property on its WatchList in 2012, 2013 and 2014.  Toping the list in 2013, the property's future looked bleak as a demolition permit was considered.  The property symbolized the plight of sacred places all along the Main Line.
A glimmer of hope emerged as Lower Merion Township adopted a new ordinance designed to give assistance to property owners wishing to convert an institutional property to a residential use.  This 'conversion ordinance' gives developers some relief to adapting special buildings while affording additional preservation to the buildings by listing them on the township's inventory of historic resources.  It's a win-win for everyone.  Neighborhood character is preserved while a building can be converted into a modern use.
After the ordinance was passed, Ardmore's First Baptist's big break came when Main Line Rebuild came on the scene.  This development firm specializes in the adaptive reuse of historic properties.  Their projects build on the embodied value of these historic sacred places such as their closeness to the heart of a community, their quality of construction, their beautiful facades and the unique properties of large windows and large open interior spaces to create incredibly desirable homes.
This week Lower Merion's Historical Commission took the first step in the process of listing Ardmore's First Baptist Church on the townships historic resource inventory.  With the process underway, the church is one step closer to a new use and the neighborhood character will remain intact.
Reusing a sacred place takes a creative mind and deep passion for these special places.  The rewards, however, are eternal.  The options for reusing these spaces and the interest in living in them have never been greater.  The time to talk about the future of any struggling special place is before you have to sell the asset.  For more information about preserving your historic resources, contact the author. 
Patty Thompson is the Executive Director of the Lower Merion Conservancy.  JulieAnn Murphy, the Conservancy's Historic Preservation Coordinator, contributed content to this column as well.  Patty can be reached at patty@lmconservancy.org.