Ardmore Theatre:
38 W. Lancaster Avenue, Ardmore
Constructed in 1926
**UPDATE**
The Ardmore Theatre may soon regain its place as the keystone of Ardmore's business district. At a recent Historical Commission meeting, the theatre's owner and a preservation architect informally discussed their interest in rehabilitating the facade of the building as a means of attracting new tenants to the property.  Thanks to its inclusion in the Ardmore Commercial Historic District, the building's theatre is largely intact.  The applicant's suggestions include restoring the large arched window in the façade's central bay and replacing the incompatible half-round marquee with a sensitively designed canopy that reflects the façade's original design.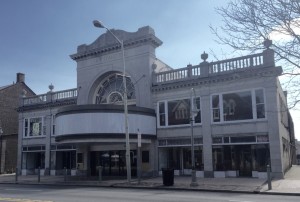 Most long-time Lower Merion residents have memories of nights out at the Ardmore movie theatre.  For three quarters of a century, the theatre, which is located in the center of Ardmore on Lancaster Avenue, was a mainstay of the community.  Although the theatre's film selections changed from week to week, a trip to the movie palace was a timeless experience that transcended generations.  Movie-goers across the township enjoyed this experience until 2000 when the theatre, echoing a nation-wide trend of main street theatre failures, closed.  In 2002, the theatre reopened, but with a different use.  Its new owners fully gutted the interior and constructed a sports club in the theatre's historic seating area.  The sports club occupied the building until 2014.  Since then, the theatre has been vacant.
The theatre's vacancy raises concerns about the long-term viability of the landmark and about plans for the revitalization of the Ardmore business district.  This striking building, which conforms to main street movie palaces across the country, contributes immeasurably to Lancaster Avenue's early-twentieth-century streetscape.  With its enormous fanlight window, decorative stone panels, flanking recessed store-front wings, and stained glass transom windows, the theatre could be the keystone in the revitalization of historic Ardmore.  The façade of the building should, therefore, be sensitively maintained so that vacancy does not compromise its condition.