Bala Theatre (The Egyptian): 157 Bala Avenue, Bala Cynwyd
Constructed in 1926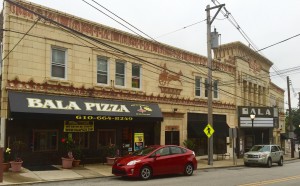 Among Lower Merion's architectural treasures, the Bala Theatre building complex is unique.  The building, which comprises a theatre and flanking commercial spaces, was designed in 1926 by W. H. Hoffman and Paul J. Henon, the architects of more than 100 American theatres, including nearly 50 in Philadelphia.  Like many movie theatres of the early twentieth century, the Bala was constructed to profit from the country's growing appetite for vaudeville acts and motion pictures.
The genius of the Bala is its exceptionalism.  The building's Egyptian Revival theme, which is integrated into a more expansive Art Deco design, is rare among American theatres and survives to document the country's enchantment with Egyptian culture (spurred by the 1922 discovery of King Tut's tomb).  The building's stone façade is embellished with colorful and exotic Egyptian motifs, including a chariot, funerary boat, palmettes, and mythical animals.  Although the original plan of the interior was modified to accommodate three screens, the highly-decorated ceiling remains in place.
The Bala Theatre has been closed since late 2014.  Its vacancy was precipitated by a dispute between the building's owner and the building's tenant.  A court date to address the dispute is scheduled for September 2016.  During the intervening period, the building's character-defining features, including its historic plaster ceiling, should be safeguarded for the future.  Measures to ensure the Bala's condition and its outstanding historic integrity will support the building's long-term preservation, guarantee its potential for profitable federal and state historic tax credits, and encourage the revitalization of the street that it rightly dominates.