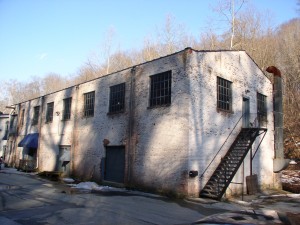 1400 Mill Creek Road, Gladwyne 2.18 acres with three  historic buildings Class I Historic Resource on Lower Merion's Historic Resource Inventory/Mill Creek National Register District
History
The land where the Barker Mill sits used to be part of the property of John Roberts, a Welsh Quaker. Roberts sold the land to J. Abraham Nippes in 1807 for the development of a gun-manufacturing mill that operated until 1865 and produced rifles that were used in the War of 1812. Several years later, William Booth bought the mill with his half-brother Thomas Barker. The Booth-Barker Mill was converted to a carpet yarn mill. In 1924, the mill was sold to the Barker family, who ran it until 1956.
The building had a number of uses since then, including a recording studio and office space. O'Neill Properties purchased the building in 2003 with plans to convert it to a condominium complex. While an approved development plan does exist, the project has not yet begun.
Significance
Perched on the banks of Mill Creek, Barker Mill is one of the last visual reminders of Lower Merion's industrial past — Mill Creek alone once had more than 20 mill buildings along its banks. It is one of the few rifle mills extant in the United States, and was the longest functioning mill in the area. This, along with its location on the edge of Rolling Hill Park, lends itself to being an educational tool for adults and children alike to convey the physical, economic, and social transformations that have taken place over time in Lower Merion Township.
Threat
This year marks the sixth time that the Barker Mill has been listed on the Preservation WatchList. Though the property is a Lower Merion Township Class I Historic Resource and a contributing property to the National Register of Historic Places Mill Creek Historic District, it is still at risk for loss due to long-term vacancy and continued deterioration.
A revised development plan proposed by O'Neill Properties includes a reduction in the number of units and the possible use as rental units. O'Neill is currently looking for a development company to either purchase their approved development plan or become equity partners to make the plan come to fruition.
Like all of the properties on this year's WatchList, Barker Mill must be re-imagined to honor the past of the site, while becoming vibrant and useful for a new group of people. A new use for the building would offer an opportunity to save a historic resource and add another layer to Lower Merion's already rich and important history.
The Lower Merion Conservancy will continue to work with the developer and Realtors to find a sensitive purchaser. Through public programming events and elementary education programs we will advocate for its sensitive reuse.
Updates
The Conservancy held a tour and lecture at Barker Mill on June 5th. Led by Rutgers Professor Richard Demirjian, the event highlighted the rich history of the mill and America's early economy. Read more about it here.