718 Sussex Road, Wynnewood, PA 19096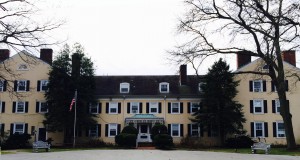 6.1 acres with four historic buildings Class I Historic Resource on the Lower Merion Township Historic Resource Inventory
History
The Charles Knox House evolved from a working farm into a retirement community. Josiah Knox built the original farmhouse in 1856 and over time purchased neighboring properties to eventually come to own 240 acres. Upon his death, his property was split between his children, including Charles C. Knox. Charles Knox continued to farm the land like his father. He never married, had no children, and willed the property to be a retirement home after his death in 1939. The farmhouse was developed from the original 1856 rectangular plan to an "I-plan" with a 1941 replica wing and central addition. It is a symmetrical three-and-a-half story stuccoed Greek Revival farmhouse. The site also has an 18th century tenant house, an 18th century springhouse, and an 1828 carriage house.
Significance
The Knox family was one of the first to settle Lower Merion. The Charles Knox house is one of the few 19th century farm complexes that survived changes brought by the coming of the railroad and the suburbanization of the Township. Additionally it is one of the last parcels of its size in that neighborhood.
Threat
The retirement community closed in December 2013 and the six-acre property is on the market. The site is a Class I resource on the Historic Resource Inventory. Because the parcel is larger than five acres, if it is subdivided, 50 percent of the land will remain open space in accordance with the Township's Open Space Preservation District Ordinance.
Though there are preservation protections in place, the site is vulnerable to remaining vacant for a long period of time. A building that is unused deteriorates faster, encourages vandalism, and lacks a feeling of life. The long tradition of stewardship on this site should be continued through sensitive reuse and good design that allows the historic buildings and setting to be fully appreciated and enjoyed.
The Lower Merion Conservancy, by listing the Charles Knox House, hopes to educate the public on what an important community asset it is. Through continuing education and programming, we hope to be partners in the Charles Knox House's next chapter.
Updates
The Conservancy kicked off this year's Spring Historic Preservation Lecture Series with a lecture and tour of the property on April 27th. We are happy to report that the Knox Home will not remain vacant for an extended period of time. There are also plans to honor the intent of Charles Knox's will through the continued support of programs that allow the elderly to age with dignity.
Since being listed on our Preservation WatchList, the Board of Directors has gone to Orphan's Court to revise the will. A new developer is engaged in the process with hopes of converting the site for residential development.