Millions of us depend on clean drinking water from the Schuylkill and Delaware Rivers.  It is the very same water that runs off our landscapes and roadways every time it rains.  Chemicals, heavy metals, and other pollutants found on these surfaces end up in our waterways. Whether it's chloride from road salts or chemicals from lawn fertilizers, the impact on the environment, wildlife, and human health is significant.
With mounting data documenting the increasing impacts of land practices on our streams, the William Penn Foundation launched the Delaware River Watershed Conservation Program, a multi-state effort to protect and restore water quality in the Delaware River Watershed. The Delaware River is the last undammed river east of the Mississippi River and a critical source of drinking water for more than fifteen million people.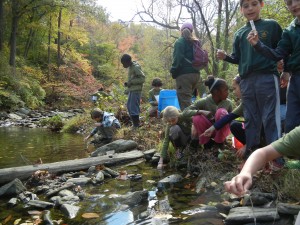 As part of this initiative, the William Penn Foundation awarded the Conservancy a three-year grant to develop and lead a multi-organizational partnership with leading conservation groups to improve water quality in the Cobbs Creek Watershed. The Cobbs Creek, whose headwaters are located in Narberth and Lower Merion, flows across multiple municipalities and counties and eventually flows into the Delaware River. The Cobbs Creek Watershed is comprised mostly of developed land and its waters are in decline due to harmful stormwater runoff.
We are asking you to take part in the Conservancy's efforts to reduce stream pollution over the next three years by making a tax-deductible donation.  Your gift today will provide a portion of the match necessary to fulfill the terms of the Foundation grant and will give a much-needed financial boost to the Conservancy's water quality projects.
Building on the excitement of the innovative watershed initiative and to increase support for the Conservancy's efforts, three Board Members stepped forward to create a $10,000 challenge opportunity. New gifts or gifts above your last year's level of giving will be counted towards the challenge.  Gifts made between now and June 30, 2014 will be matched, dollar for dollar, up to $10,000.  
Clean water is essential for human health, wildlife, and a balanced environment. We hope we can count on you to take part in this monumental effort to improve water quality in our community and beyond.  Should you have any questions, I welcome your call at 610.645.9030 or e-mail at patty@lmconservancy.org.