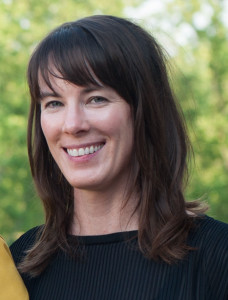 Lower Merion Conservancy Appoints Maurine McGeehan as New Executive Director
For immediate release, May 26, 2015
The Lower Merion Conservancy has named Maurine McGeehan as its Executive Director, effective this month. She will be taking over leadership of the environmental, open space and preservation organization from Patty Thompson, who will be relocating to her native upstate New York to accept a college faculty appointment.
McGeehan joined the Conservancy seven years ago and currently serves as Director of Development and Finance. In her new position, she will be responsible for guiding the Conservancy's programs and projects, managing its five full-time and part-time professional staff, and overseeing its $450,000 annual budget.
"We are very sorry to lose Patty's passion for our mission and commitment to our community, and are grateful for her nine years of service," Board Chairman Todd Bressi said. "At the same time, we are delighted that Maurine has accepted this new challenge. Maurine's leadership will allow us to continue our advocacy work, celebrate our 20th anniversary this fall and implement our strategic plan without missing a beat."
"I am excited and honored to serve as acting executive director and to continue working with the Conservancy's solid team of staff and board members," said Maurine. "I have long valued working for the Conservancy and its balanced, science-based approach to preserving our community.
Bressi noted that under Thompson's guidance, the Conservancy has expanded its stormwater programming, open space easements and outreach related to historic districts. Thompson has helped the Conservancy play a leadership role in the William Penn Foundation's Delaware River Basin Watershed Initiative, obtain funding for stormwater improvements in Narberth from the National Fish and Wildlife Federation, and organize annual stormwater workshops with St. Joseph's University. Thompson also managed the design and construction of the Conservancy's beloved playscape and demonstration rain garden in Rolling Hill Park.
"Lower Merion and Narberth are very special places to live. The Conservancy has done so much to preserve everyone's quality of life. As we enter our anniversary year, we will be in good hands with Maurine at the helm." said Thompson, who will remain with the Conservancy until June to assist with the transition.
McGeehan's focus will be on continuing to implement the Conservancy's strategic plan, which calls for a stronger emphasis on advocacy around the preservation, open space and watershed topics that are central to the organization's mission. "I am eager to continue the Conservancy's comprehensive and integrated approach to preserving Lower Merion and Narberth," explained Maurine. "My top priority in the position will be to deepen relationships with our constituency and to heighten people's awareness of Lower Merion and Narberth's resources."
McGeehan most recently served as the Conservancy's Director of Development and Finance. She has worked for more than 15 years in non-profit development and fundraising, serving as development coordinator for The Nature Conservancy in Arlington, VA, and membership director at the Clean Air Council in Philadelphia. She lives with her family in Narberth.
The Conservancy was formed in 1995 through the merger of the Lower Merion–Narberth Watershed Association and the Lower Merion Preservation Trust. Its mission is to "protect and enhance our community's character and quality of life, recognizing that the sustainable management of our environmental and historic resources is inextricably intertwined with both conservation and change."
The Conservancy, which counts nearly 800 member households in Lower Merion and Narberth, advocates for policies programs and projects that support its vision for the community and builds an informed constituency that can actively support this vision.
The organization currently manages 100 acres of open space easements, monitors open space dedicated through development agreements, manages demonstration gardens, presents public programming around preservation and environmental issues, and offers programs for youth environmental education.
For more information, contact Todd Bressi, 610-667-0495