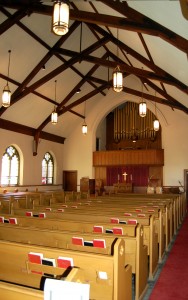 120 E. Athens Avenue, Ardmore, PA 19003 ¾ acre with one church building and one parsonage building No preservation protection in place  
History
The First Baptist Church of Ardmore was built in 1923, and designed by architect Benjamin Rush Stevens. It was the first building on the southwest block of Athens Avenue. Built to accommodate the flourishing suburb of Ardmore, it served as an important community meeting place for many years. The parsonage building was added in 1953.
Significance
It is common to find heritage places of worship at the center of a community, and First Baptist Church of Ardmore is no different. This church building has had a long tenure in Ardmore. It provides architectural, historic, and social value to the community. The building also is a regional example of how railroad transportation encouraged suburban development that was independent of big city organizations and institutions.
Threat
In 2011, First Baptist's congregation decided to put the church and property up for sale due to shrinking membership and increased operation and maintenance costs. A developer purchased it in 2012, with the intention of conversion to a condominium complex. Lower Merion Township denied the proposed redevelopment plan.
Since its inclusion on last year's list, there has been some change in the status of the site. The developer marketed the property to be used by other congregations and community organizations, but had little success finding a new tenant. Since then, the developer has applied for a demolition permit. The site is not listed on the Township's Historic Resource Inventory and therefore has no preservation protection in place. The underlying zoning would allow for several houses to be built on the land where the church and parsonage sit.
The loss of this church would dramatically change that part of Ardmore. The listing of this site on the Township's Historic Resource Inventory would allow for the developer to use the newly created Conversion Ordinance, which allows religious properties to be converted into multi-family housing. The adoption of a new use, like all of the properties on this year's WatchList, would help to encourage future oriented, past conscious, and present focused development.
The Lower Merion Conservancy will work with the developer to encourage the reuse of the buildings. By engaging the community, the Township, and the developer, the Conservancy hopes to help the building find new life in a new use.
Updates
The Conservancy held an event on May 22nd that explored the difficulty in reusing religious buildings. Patrick Hildebrandt from Philadelphia Church Project presented an overview of how churches adapt to new congregations and new uses. His presentation fully demonstrated how churches can be successfully reused.
We are happy to report that the church has been sold to a developer who is interested in exploring reuse. Read more about the project here.
You can also read about the trends and difficulties in reusing church spaces here.