Beginning in October 2013, 52 fourth -graders began a five-part, watershed and history program in Rolling Hill Park. Four of the classes took place during full-day lessons in Rolling Hill Park, while winter weather lead to holding one class at Green Woods Charter School's (GWC) new LEED certified building in Roxborough.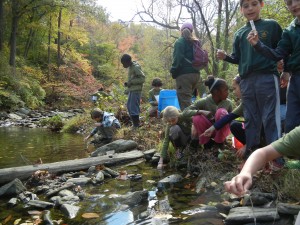 Fourth grade is the Watershed Year at GWC. Throughout the year science is integrated through all subjects. The goal is to connect social studies, language arts and math with the local environment and more specifically to the student's regional watershed. Rolling Hill Park became the perfect setting to connect all of these subjects.
LMC's Historic Preservation Coordinator, JulieAnn Murphy, worked closely with Education Coordinator, Chelsea Heck, to make every lesson cover both the historical aspects of our regional watersheds and the transformation of our natural and built landscape for the last several hundred years.
On their first visit to Rolling Hill Park, students spent the morning exploring the milling and farm ruins of the park and spent the afternoon boot-deep in the creek collecting data to determine the health of Mill Creek.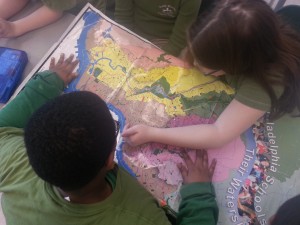 Mid-winter LMC visited Green Woods' new school and JulieAnn presented the students with the fascinating history of Philadelphia's drinking water and the development of the surrounding suburbs. After delving a little deeper into the science and history of milling, students designed, built and tested water wheels in their science lab.
During their next visit to Rolling Hill Park students built the four main types of dams out of clay and then tested them to see if they could stand up to running water! The students took all of the information they learned and put together and filmed a collection of short videos giving a tour of Rolling Hill Park.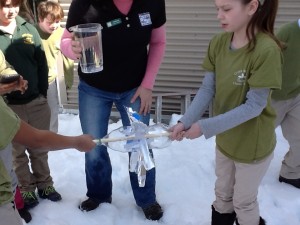 The final lesson will be held on May 8 at Flat Rock Park. The students raised trout in their classroom all year. After performing chemical tests to determine if the trout can survive, the students will be releasing them into Mill creek!
To Learn more about the Conservancy's education programs click here.