The striking August 17 cover of Time Magazine portrayed a honey bee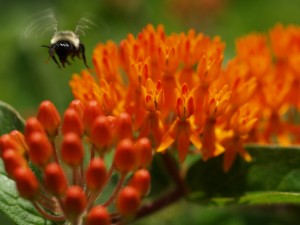 with its wings fluttering full speed, struggling against a solid black background.  Beneath the bee, the words written were difficult to ignore: "The price we'll pay if we don't figure out what's killing the honeybee."  Sobering indeed, but also a call to action for everyone who cares about the food we eat, the environment around us, and the pollinators we have depended upon for thousands of years.
Beginning nearly a decade ago, honeybees started dying off at mysteriously high rates.  Over the 2012-13 winter, nearly one-third of the U.S. honeybee colonies died or disappeared.  What's worse is that honeybees are not the only pollinating insects rapidly disappearing – 2013 was the worst year on record for monarch butterflies, whose annual visit to the U.S. is studied and revered by all, the Conservancy included, who marvel these winged wonders.  The U.S. is not alone, however, as examples of localized pollinator declines have been reported on every continent except Antarctica.
Some may ask themselves how something so small could matter so much.  The value of bee pollination in human nutrition and food for wildlife is enormous.  Two thirds of the crops used for food production depend on pollination by insects such as bees.  Bees add at least $15 billion in crop value through pollination in the U.S. alone, and if bee populations continue to crash, those pollination demands will be difficult, if not impossible, to meet.
Experts have studied the source of pollinator decline, and while no single reason is conclusive, we do know that one of the biggest problems for pollinators is loss of habitat.  Pollinators, like the honeybee and monarch butterfly, depend on the availability of various flowering native plants throughout a season, and habitat loss can negatively affect the timing and amount of food available.
This fall, in response to the grave news about bees and other pollinators, the Conservancy has launched a campaign that will create more food sources and set aside additional habitat for our declining pollinators.  By planting additional native plants and trees in Conservancy-maintained wildflower gardens and natural areas, we will  create a more native landscape, provide numerous environmental benefits for the community, and help conserve the pollinators we rely on so heavily for our food production.
Consider a contribution that will make it possible for the Conservancy to plant a nectar plant, host plant, flowering vine or host tree.   The enclosed card describes the native plants your contribution will purchase.  Your gift will also help sustain the Conservancy's programs that preserve open space, protect historic architecture and conserve the environment.
Please let us know if you would like to make your native plant contribution to acknowledge a friend or family member or to honor the memory of a loved one.  Your honoree will receive a lovely personalized certificate detailing your generous contribution.
Every donation, no matter what size, is fully tax-deductible and greatly appreciated. Thank you for your support of the Conservancy and for joining us in this special opportunity to make a difference in our community.
To donate a nectar plant, host plant, flowering shrub or tree please click here.