Nine Walter Durham Houses: Elbow Lane, Grays Lane, Cheswold Lane, Haverford
Constructed between 1935 and 1955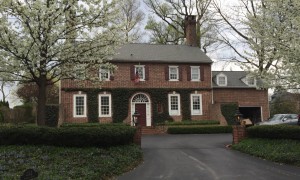 Lower Merion contains a voluminous collection of houses designed by Walter K. Durham, one of the Main Line's most notable mid-twentieth-century architects.  Durham's revival-style houses are highly recognizable.  Some are creative interpretations of designs introduced by Lower Merion's colonial Welsh settlers.  Others reference Old World building traditions and are expressions of Tudor and Norman architecture.  Whether executed in stone, brick, or stucco, Durham's designs defy simple classification and convey a quality of timelessness.
To accommodate a parking lot and a swimming pool at the rear of its property, the Merion Cricket Club proposes to demolish a neighborhood of nine Durham houses constructed between approximately 1935 and 1955.  The houses, which the Cricket Club purchased over a period of approximately 15 years, are located on residential streets adjacent to the club property.  Three are on Gray's Lane, two are on Cheswold Lane, and four are on Elbow Lane.  The demolition of such a large and concentrated collection of Walter Durham houses is regrettable.  As an assemblage, the nine houses proposed for demolition document different chapters in Durham's long career and represent a visual timeline of his work in the township.  The demolition of these houses will remove a parade of important buildings from the neighborhood.  It will also contribute to the steady attrition of this architect's work in Lower Merion.
The impact of the demolition on the neighborhood and on Durham's body of work could be blunted with a modified development plan.  Merion Cricket Club could reduce the number of houses proposed for demolition and still accommodate new and necessary facilities for its membership.  A sensitive development plan that retains some of the Durham homes could also inform future institutional expansion across the township.  The Merion Cricket Club has an outstanding record of historic preservation.  Its principal building, a Frank Furness commission listed on the Conservancy's Architectural Hall of Fame, retains a superb degree of historic integrity.  The Cricket Club could build on its record by adopting a plan that recognizes the significance of the Durham houses and their architect, a well-known township resident and member of the Cricket Club.