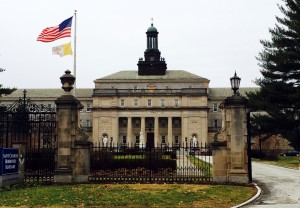 100 Wynnewood Road, Wynnewood 75 acres with several historic buildings No preservation protection in place
History
St. Charles Borromeo's Wynnewood campus was founded in 1865 when Bishop James Frederick Wood notified the archdiocese that a new campus was needed outside of the city to increase the capacity and efficiency of the Seminary. The first building was erected in 1866. Designed by Samuel Sloan and Addison Hutton, prominent architects of their time, the 1866 building now houses the Seminary's Theology Division.
There is a tradition of successive architecture at St. Charles Borromeo. Campus growth in the 20th century necessitated new buildings. The College Division building and St. Martin's Chapel were added in 1928. Paul Monaghan designed both buildings. Monaghan is most noted for his work in liturgical architecture, and his buildings at St. Charles is among his finest.
Significance
St. Charles serves as a visual gateway to Lower Merion Township and a testament to Lower Merion's rich history.
The campus at St. Charles Borromeo is at the top of this year's Preservation WatchList because it exemplifies several issues in historic preservation, including: the challenges of institutional operation below building capacity, potential for adaptive reuse, and open space conservation.
The campus is now significant for both its historic architecture and its status as the last large parcel in that part of the Township.
Threat
The needs of St. Charles Seminary have changed. The College and Theology Division portions of the campus will consolidate to the older portion of the campus, affording sensitive restoration to the older portion of the campus. The 75-acre campus will be reduced to 30 acres. The remaining 45 acres will be sold, including the 1928 Paul Monaghan buildings, though 50 percent of the land will remain open space in accordance with the Township's Open Space Preservation District Ordinance.
The buildings on St. Charles Borromeo's campus, though historic and architecturally significant, are not protected by any national, state, or local preservation laws. The site was determined eligible for the Township's Historic Resource Inventory, though it was not listed when the inventory was assembled.
Like the other properties on this year's WatchList, the historic buildings on St. Charles' campus invite an innovative reuse so that they can remain community icons. If the buildings were to be listed on the National Register of Historic Places, the new owner would have the opportunity to use Federal Historic Preservation Tax Credits, which would make the conversion to another use more feasible.
Through continued dialogue, community engagement, and education, the Conservancy will work to ensure that the future of St. Charles Borromeo's campus is decided with the community in mind.
Updates
St. Charles Borromeo sought zoning variances to move their operations to the older portion of the campus. Read about the process here.