Lower Merion Conservancy Seeking
Citizen Science Volunteers
to Monitor Water Quality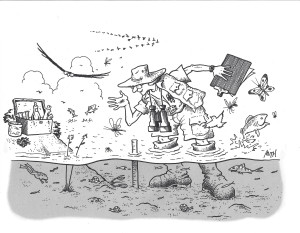 The Lower Merion Conservancy (LMC) is part of the Delaware River Basin Initiative, an unprecedented partnership of conservation organizations, watershed groups, and universities working to restore and monitor watershed health in local communities across the basin.  LMC is demonstrating stream restoration and green infrastructure projects in partnership with Narberth Borough and Lower Merion Township to better manage the tens of thousands of gallons of stormwater draining through the Cobbs Creek Watershed each day.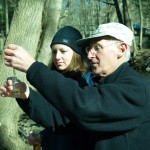 We are now looking for "StreamKeepers", or citizen science volunteers who conduct water quality sampling in the critical headwater streams of the Cobbs Creek Watershed in Lower Merion and Narberth.  Volunteers will collect streamside water samples at assigned stream sections once each month and use test kits to analyze nitrogen, phosphorus, and other parameters that are critical indicators of stream health.  The time commitment is about two hours each month.
A volunteer training for this important water quality monitoring project will be held on Wednesday, April 15th from 6:00pm to 8:00pm (including pizza!) at the Community Recreation and Environmental Center in Haverford (9000 Parkview Drive).  As part of a network of citizen science volunteers for the Delaware River Basin Initiative, you will also have many opportunities to attend lectures and events in the suburban Philadelphia area to continue learning about water quality in the region and meeting other partners and dedicated volunteers.
If you are interested in signing up to become a StreamKeeper for the Lower Merion Conservancy, please compete the volunteer application HERE.
If you have any questions, please contact Andrea Stevens (andrea@lmconservancy.org) and we look forward to hearing from you!