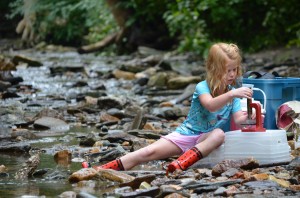 At the Conservancy, many of our programs incorporate play and exploration but none more so than our annual summer Stream Camp. Last year, during the last two weeks of August, Rolling Hill Park became a playground for a group of six to ten-year-old nature lovers. Each morning, campers and Conservancy staff hiked down to Mill Creek and spent hours building dams, collecting clay, 'fishing' with kitchen strainers, searching for salamanders, and chasing down a few snakes! Not one inch of Mill Creek from the Barker Mill to the historic tenement houses was left unexplored.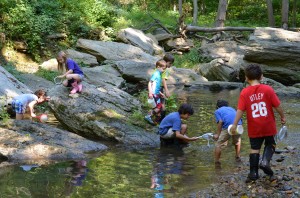 The hot afternoons were spent playing in the woods, building fairy houses and forts, and playing the campers' favorite game – Camouflage! Everyone on staff is involved with Stream Camp, which brings a welcomed buzz around the cottage.  In recent years, the term "Nature Deficit Disorder" has emerged as an explanation for behavioral problems in children due to increasingly less time spent outdoors. Nature Deficit Disorder has been used to urge parents to 'unplug' their children and get them outside. Stream Camp serves as the perfect outlet to reconnect children with nature and to instill a life-long urge to protect the natural environment.
This year 2014 Stream Camp will again be held the last two weeks of August:
Session 1: August 18 – August 22
Session 2: August 25 – August 29
Each one-week session will turn your camper into a junior scientist as they learn about the park from top to bottom. Campers will don rubber boots to explore Mill Creek in search of critters like crayfish, minnows, and mayflies, learn how to create rock collections, create nature forts, learn about life cycles of the forest and plant trees, and get an ant's-eye view of the world as they search for the bugs and slugs that call Rolling Hill Park home.
For registration information and fees please Click Here.