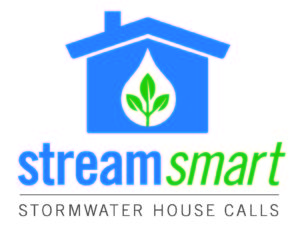 Stormwater is not only an issue on public roadways and parking lots, it can also plague residents on their own properties. Traditionally, the response to the flow and buildup of water has been to redirect and channel it toward streams for a quick fix. The redirected water, commonly known as stormwater runoff, carries pollutants into our water supply and can cause property damage. Residents looking for more creative and sustainable stormwater management options spurred the creation of the Conservancy's Environmental House Call program in 2004.
Thanks to an innovation grant from the National Fish and Wildlife Foundation, under the William Penn Foundation's Delaware Watershed Initiative, the Conservancy is re-launching its Environmental House Call program this spring in partnership with Pennsylvania Resources Council, the Eastern Delaware County Stormwater Collaborative, and Darby Creek Valley Association. The new program, known as the Stream Smart Stormwater House Call Program (Stream Smart), aims to help homeowners address stormwater in a sustainable manner.
Every property has its own unique issues to address. Some approaches can be as simple as strategically aiming gutters toward native vegetation or attaching a rain barrel to a downspout to capture water during rain events. These proactive measures will reduce the amount of water that is sent into streams and will save water for your garden during dry periods.
Rain gardens require more extensive planning but can absorb large amounts of stormwater and improve the aesthetics of your yard. Properties with more significant stormwater damage may require more sophisticated engineered projects. Regardless of the issue or response required, the Conservancy is available to educate and assist residents throughout the process.
If you are having stormwater issues on your property, please visit the Stream Smart website, fill out the contact form below, or call the Conservancy at 610-645-9030.